Just when I think life in St. Andrews Country Club cannot be more unique, something happens.  While enjoying the salt water lap pool, I heard bagpipes and it was too early for it to be an imaginary bagpipe! :)  
At the Clubhouse main entrance, members and guests were greeted with a Scottish Piper in true St. Andrews Scotland traditional attire - kilt and all. (His picture at the bottom of the post - so, read all!) If you're not familiar with Scotland's St. Andrews, it is reputed to be the birthplace of golf.  In fact, St. Andrews Golf Club in Scotland is so traditional, they're voting this September to allow women as members of the club!  Even Augusta retired that rule years ago!
My personal opinion is golf was born in Scotland, but it is King in St. Andrews Country Club, Boca Raton, FL.  And St. Andrews Country Club has 36 championship holes, no tee time necessary and the Piper to prove it!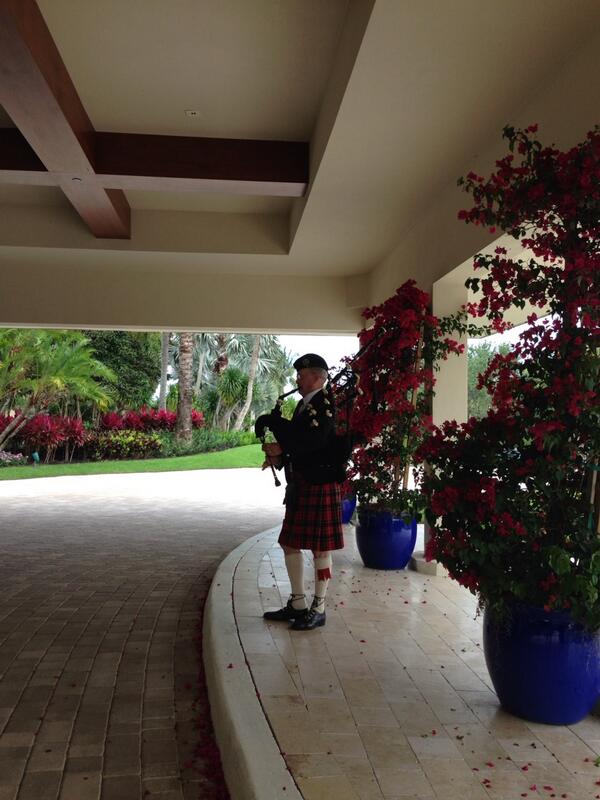 contributed by Kathy Fineman
This blog and page was created and updated by the Fineman Team PA specifically for the benefit of our clients.  Please link to it as you wish, but do not copy this content as your own and don't re-frame the page or it will be considered a violation of our copyright and may result in legal action.
Leave a Comment